"Photographs are close to my heart. I see how important it is that people see the truth of what has happened. At first I worked under the pseudonym Vadim Maximov because photographs of war were not allowed. In 1990, at the beginning of the Nagorno-Karabagh war, nobody knew about it."
—Khalid Askerov, Kurdish Photographer
living in Nagorno-Karabagh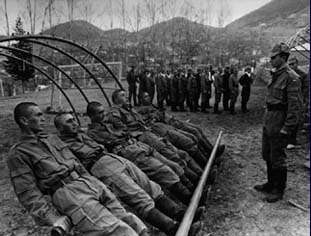 Azeri soldiers in Lachin one year before the battle began. Most are probably Kurds, but this was nearly the first training of the Azeri national army.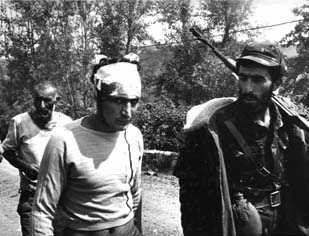 Inside Nagorno-Karabagh, February 21, 1992, Armenian soldiers are captured by the Azeris, after regaining an Azeri village.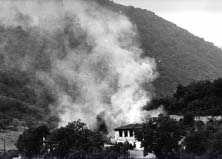 Bombing near Kelbajar, between Azeris in Aydara and Armenians in Mondakirt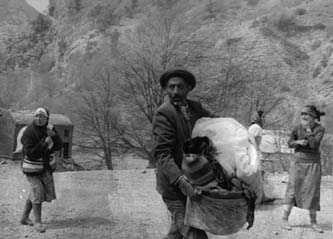 Exodus from Kelbajar in April 1993, destroyed and abandoned Azeri Soviet tanks in the background.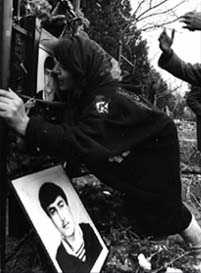 Burial of Azeri victim of the war in a former park of Baku, fall 1993.
"Since the breakup of the Soviet Union, independent nations have been born and reborn, but sovereignty has eluded one of the first groups to seek it, the Armenians of Nagorno-Karabakh, a small enclave in the Caucasus....
After trying to join Armenia in 1988...[with no] international support, Karabkh declared itself independent in early 1922...But Azerbaijan [showed] no inclination to relinquish any territory.
The result...[was] a war between Karabkh and surrounding Azerbaijan..."
— Raymond Bonner, American Journalist,
"War in Caucasus Shows Ethnic Hate's Front Line," The New York Times, 8/2/1993.