THE ROSE
There is a rose in my garden,
A crimson rose opening in my heart
Rosy cheeks
Blossoming like a young pomegranate plant
Which loves the earth
Like springtime...

download full text and sheet music (for alto and guitar accompaniment: pdf format)
—Poem by Iskan Acikca, written while he was a prisoner in Turkey, as a Kurdish prisoner of conscience. Score written by David Solomons. Performed by David Barclay (tenor) and Martin Godden (piano) Please contact David Solomons for other scores of this song.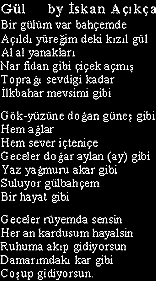 I have an auntie who became interested in the plight of Kurdish prisoners through a Quaker friend. She joined the Befrienders and was given the name of a young man with whom to correspond.


Auntie Theo, in common with most of us, knew no Turkish so she wrote to her new friend in English, and when he replied she had to send the letter to the Society of Friends for translation.


My Auntie Theo is an impatient lady and became frustrated by the long delays so she decided to learn Turkish. She bought a dictionary and made time each day to study the language. It wasn't long before she was able to understand fragments of the letter.


Auntie Theo cares very deeply for these young men who are in prison simply because they are Kurds (not a fashionable race to belong to in modern Turkey). They are not murderers or terrorists, they were teenagers when they last tasted freedom.


Iskan writes poetry and sent a poem to Auntie Theo, which she struggled to translate. I thought it was beautiful and mentioned it to David Solomons (counter tenor in our choir and music composer). David took the poem to a Turkish speaking friend to check the translation, then scored it.


Finally he recorded it and very good it is. Auntie Theo sent a copy of the score to Iskan and he has not yet replied; he has probably not received it. On the other hand, Iskan might be dead; quite a possibility, but Auntie Theo will continue to write to him until she knows and is certain.
—Peter Lomax, submitted October 1998